Myofascial Immersion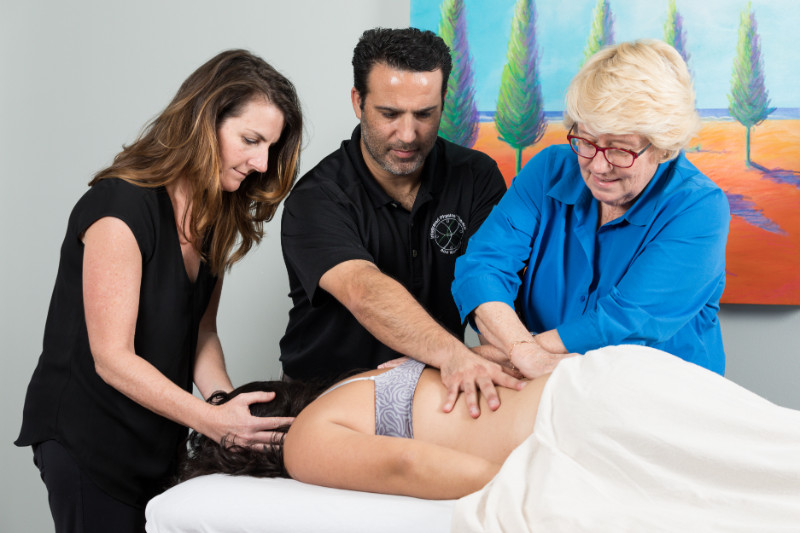 We are excited and honored that you have allowed us to partner with you in making a quantum leap in your health and well-being! We appreciate your investment and pledge our fullest capability of expertise and energy in helping you achieve your goals during your time here.
IMMERSION BASICS
PURPOSE:
The Immersion at IPT is to provide an intensive level of care for patients with chronic pain. This is appropriate for the patients who:
- Have long term, complicated pain or disease which has not responded to other forms of therapy
- Experiences relief from sessions but symptoms return once back to typical daily life
- Have experienced trauma
- Want to explore how emotions play a part in resolving pain
- Want a "personal sabbatical" experience with mind body wellness as a foundation
FORMAT
- Three Myofascial Release (MFR) and 1 additional service sessions in a day
- Session breakdown:
* 2 individual hour MFR sessions
* 1 co-treatment hour MFR session
* 1 additional adjunct therapy (movement therapies, meditation, massage, Pilates, acupuncture, nutrition)
- You will benefit from the experience and service of expert level MFR therapists
- 5 days in length
HOW IS IT SCHEDULED
- It is typically recommended by the patient's current MFR therapist, either at IPT or elsewhere, but you, the patient, is already engaged in MFR treatment (or has been in the past.)
- If a person without Myofascial Release (MFR) experience is interested in scheduling an intensive immersion, they should first schedule evaluation and treatment with one of IPT's MFR therapists. If they are from out of town, a phone consultation with one of IPT's MFR therapists should be scheduled to determine most appropriate course of treatment.
-When someone expresses the intention to schedule
IPT's front desk will inform you of the date options/availability
IPT's staff will gather all your contact information so that one of IPT's expert MFR practitioners can contact you to schedule
IPT will then determines what options best fit with your needs, assign therapists and times, and submit proposed schedule to IPT's staff
IPT will send you a confirmation and initial intake forms: intake forms, waivers, hotel/food information for out of town patients.
COST
-5 days $3950.00
- If you choose (and we highly recommend you do) to add additional services - if available at the time of your immersion - movement therapies, meditation, massage, Pilates, acupuncture, nutrition
- For immersion patients we offer a discounted rate of $90/hr for each of these services.
Below you will find website links to a few hotels in the immediate area.
If you would like to do further research into the multitude of large resort and small boutique hotels along North Miami and North Miami Beach, just know that IPT is located about 10 minutes away from the intersection of A1A (the main road along beach) and State Road 922 (which takes you to the mainland.) SR 922 or (125th street) the road the office is located on and this drive is a very easy straight shot.
Other options are Aventura, 30 minutes north, and South Beach is 30 minutes south.
These drives are not complicated, you need only accommodate for heavy traffic.
Office address to look at map:
2142 NE 123rd St
North Miami FL 33181
1. Best Western Windsor Inn is extremely close to the office and is next door to a Whole Foods. It is not on the beach but the beach is an easy 20 minute drive away $144
https://www.bestwestern.com/en_US/book/hotel-details.10349.html?iata=00171880&ssob=BLBWI0004G&cid=BLBWI0004G:google:gmb:10349
2. Doubletree Resort Ocean Point is on Miami Beach and a 10 minute drive to the office $271
http://doubletree3.hilton.com/en/hotels/florida/doubletree-resort-and-spa-by-hilton-hotel-ocean-point-north-miami-beach-MIAOPDT/index.html
3. Collins Hotel is on the beach and a 15-20 minute drive to the office $119
4. Days Inn and Suites North Beach Oceanfront is on the beach and a 15-20 minute drive to the office $89
https://www.wyndhamhotels.com/days-inn/miami-beach-florida/days-inn-and-suites-miami-north-beach-oceanfront/overview?CID=LC:DI:20160927:RIO:Local:SM-disatl
Please let us know how we can assist you in building the perfect program for your stay. Information on pricing can be found here: