Staff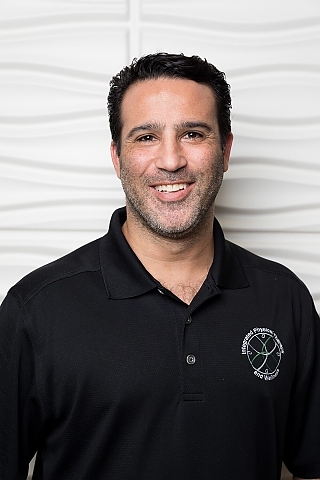 Craig Cohen
MPT, PT, ATC/L, CSCS
Physical Therapist
Myofascial Release Therapist
Craig received his undergraduate and Masters Degrees in Athletic Training and Sports Medicine at Hofstra University where he worked with collegiate and professional athletes alike including the New York Jets. Upon returning to Miami, he attended Nova Southeastern University for his Masters in Physical Therapy with an emphasis in orthopedics. Over the past 20 years in practice, Craig has specialized in the John Barnes method of Myofascial Release and continues to teach alongside his mentors to the up and coming students in the field. Craig also specializes in Ki-Hara Resistance Stretching protocols, Pilates rehabilitation (certified in the Polestar method rehabilitation since 2000), Corrective Exercise techniques (Certified Athletic trainer-holds a Masters Degree) Active Release Technique, and sports rehabilitation.
What makes Craig different from other physical Therapists?
He has merged the science of biomechanics and innovative manual therapy techniques with the art of healing and renewal.
He is a physical therapist who "gets it" with the ultimate desire to open the door in order for the patient to have the opportunity to heal themselves.
He believes in nurturing the spirit and empowering the person faced with disability, strongly emphasizing the importance of the patient-therapist relationship.
He focuses on not only alleviating symptoms that cause pain and discomfort, but finding and treating and eliminating the root cause of the problem, establishing a platform for lifelong health and wellness.
He acts as an advocate for his patient's total well-being – matching them with the treatments best suited to help them attain optimal health and quality of life.
He provides an extensive plan of care – a multi-faceted approach that understands that all of the components of the body are interconnected, thereby he works to heal the whole person (focused on the systems of the body – circulatory, lymphatic, musculatory, skeletal, nervous, connective tissue, integumentary (skin), and limbic (emotions) rather than individual parts.
Leaning upon a far-reaching education:
Having worked towards multiple degrees in health care has enabled me to lay a solid foundation in Physical therapy. With the continuation of my education, I have had the opportunity to continue to grow and learn how to approach and treat the body as a whole.
Masters of Physical Therapy
Masters of Athletic Training and SportsMedicine
Bachelor of Science in Athletic Training and SportsMedicine
Bachelor of Science in Biology
Expert JFB Myofascial Release Therapist
Certified Pilates Instructor
Determined to stay up-to-date with the industry:
Throughout my physical therapy career, I have focused my continual learning process towards the hands on approach. John F. Barnes Myofascial Release (http://www.myofascialrelease.com/), treatment of the advanced spine and manual mobilization in conjunction with clinical applications allow my patients to be the beneficiaries of ever-expanding physical therapy profession.
"We use the phrase "hands on whole-istic approach" in our facility. To our patients this means quality and value provided within the care they will receive. To their families and friends this provides a sense of comfort knowing that their loved ones will obtain skilled physical therapy and an opportunity to return and in many cases surpass their prior level of function and athleticism. To me, this is the reason I show up every day."
Call today - 305 967-8976 or click here to reserve an appointment with Craig!!!